We are passionate about changing the food system through partnerships with the best sustainable growers, ranchers and producers around the country.
Here's how we think about each of our ingredients

Meats
All our meat is nitrate-free, antibiotic-free and hormone-free. Our meat purveyors raise animals according to our animal welfare standards, including all-vegetarian diets, no antibiotics or hormones, and pasture-raised, grass-fed whenever possible

Baked Goods
Unlike a lot of the industrially-produced bread on the market, we work with our bakery partners to produce real, hearty, nutritious breads. Our gluten-free breads are made in certified gluten-free facilities, however, there is risk of cross-contamination in our stores where gluten use is prevalent

Produce
Our produce is Certified Organic, grown without any pesticides, herbicides or fungicides. Sourced locally (and from our own Homegrown Sprouting Farms) whenever possible. We make exceptions for local vendors and back end ingredients when organic is not available

Soft Drinks, Coffee & Tea
We only carry soft drinks that are produced locally or have a USDA organic certification - and never source beverages made with high-fructose corn syrup. All coffee and tea is fair or direct-trade (priced above fair-trade) and shade grown whenever possible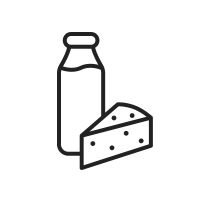 Eggs & Dairy
Our eggs are from cage-free hens raised on local farms with humane and organic certifications whenever possible. All dairy products are hormone-free, including rBGH and other artificial growth hormones. We source Certified Organic milk and all dairy animals are raised without the use of unnecessary antibiotics

Sauces & Dressings
All of our aiolis, sauces and salad dressings are 100% plant-based, made without any eggs or dairy. So no matter what your diet is, you can enjoy delicious, flavorful food
Our Sources
We believe in a concept that we call "growing for good," an idea that as our economic value increases, our positive environmental impact should too. As we scale as a business, our food sourcing model will shape the food system. Ingredient by ingredient, we filter our sourcing decisions through what is best for all stakeholders – people, animals and the land.